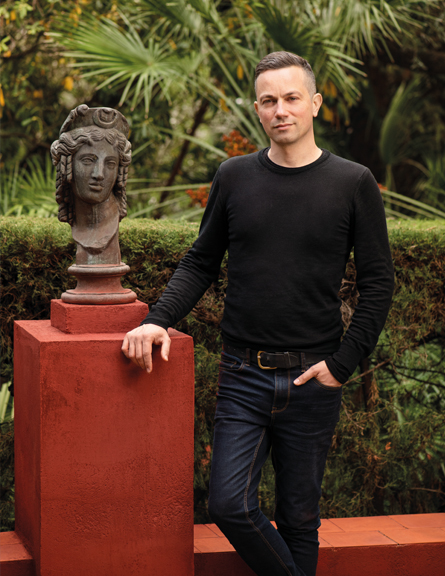 04/03/2022
Exceptional staging by Pierre Gonalons
The designer was given complete freedom to associate each piece of furniture with the new fabrics signed by MISIA. He also added his contribution to the visual signature of the photo report through recommendations for the play of light, elements of styling, the staging and the atmosphere of the photos.
He chose the sublime "Les Colombières" villa in Menton as a backdrop for the extraordinary photo shoot. Designed by Ferdinand Bac in the 1920s, the sumptuous building has the most beautiful gardens on the Côte d'Azur. Passionate about exceptional 20th century residences, Pierre Gonalons saw in them the perfect incarnation for MISIA. The scenario imagined for this event consists of visiting the different rooms of the villa, furnished for the occasion with recent creations by Pierre Gonalons, with unique pieces of art and design selected by him.
The designer's creations tend as much towards simplicity as spectacular. He gives priority to the expression of traditional materials and "savoir-faire" that he considers a source of inspiration. Seduced by the name MISIA and its reference to the muse of Coco Chanel in the 1920s, Pierre Gonalons skillfully sublimates, through the highlighting of this new collection, the creativity of our patterns and the quality of our fabrics.
We find in this scenography the "Orchid" armchair, edited by the Pierre Gonalons Gallery, as well as the famous "See Through" set of sofas and armchair, edited by Paradisoterrestre and made in the essential velvet MISIA, "Au Mont des Muses". His new "Serge" armchair, designed for Duvivier Canapés, was sublimated with our "Apparence" fabric.
"Terre des ocres" is a collection inspired by Provence, a region in the South of France that MISIA particularly appreciates. The flamboyant colors from Colorado Provençal and the ochre quarries of the Luberon ennoble these new fabrics.