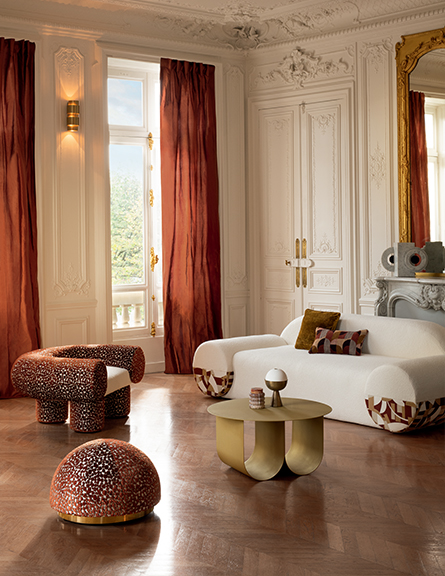 30/03/2023
When the creative audacity of MISIA and VINCENT MAZENAUER come together
For its 2023 collections, the free, avant-gardiste and glamourous world of MISIA has encountered the clean, exquisite and minimalist world of the Swiss designer Vincent Mazenauer, who launched his range of exclusive, limited-edition furniture in 2019.
Just as MISIA draws its inspiration from the beginning of the last century to reinterpret it in a resolutely modern style, Vincent Mazenauer enjoys combining antique and contemporary styles to create exclusive furniture. Both designers share a love of beautiful, fine materials, with strong ethics.
The most significant of Vincent Mazenauer's pieces, such as the MINERAL armchair, saw the day in 2020, and were shown in the United States and in London at the Studio Twenty Seven gallery. Today, they are covered with the luxurious fabrics of the new MISIA collection, Place des Vosges: the exquisite velvet Niki colours the MINERAL armchair and the pouffe with a magnificent shade, whilst the rhythm of the shapes and colours of the Chimérique jacquard enlivens the large, immaculate surfaces of the imposing KASA sofa.