20/04/2023
Maison Lily Blue X Misia at Design Week Collaboration
To celebrate London Design Week 2023, Misia Paris, creator of prestigious, unique and quality fabrics, have collaborated with Maison Lily Blue on a collection of luxury artisan room dividers that will launch at the Design Centre Chelsea Harbour from March 13th.
Bold and beautiful, the screens combine Parisian glamour with refined British craftsmanship. Handcrafted walnut frames are upholstered in the new Place Des Vosges collection. Inspired by Le Marais the brand's Parisian birthplace, the collection takes you on a journey into the heart of luxurious fabrics, exquisite colours, fine materials and rare combinations of textures.
At the meeting point of the free and modern Art Deco movement of the 1930s and the cheerful and colourful Creole artists, comes Talisman Sacré – this soft embroidery features on the screens in two exclusive colourways, the Terre d'Ombre and in the brand's signature colour Bleu Misia.
Since its early European introduction in the 16th century through to today, the room divider offers function and beauty. The simplicity of line and refined details of The Floating Screen silhouette perfectly lend themselves to the bold shapes, symmetry and colour-harmony of this striking new Place Des Vosges collection.
On show for Design Week, at Design Centre Chelsea Harbour from 13th -17th March - Ground Floor, Design Avenue.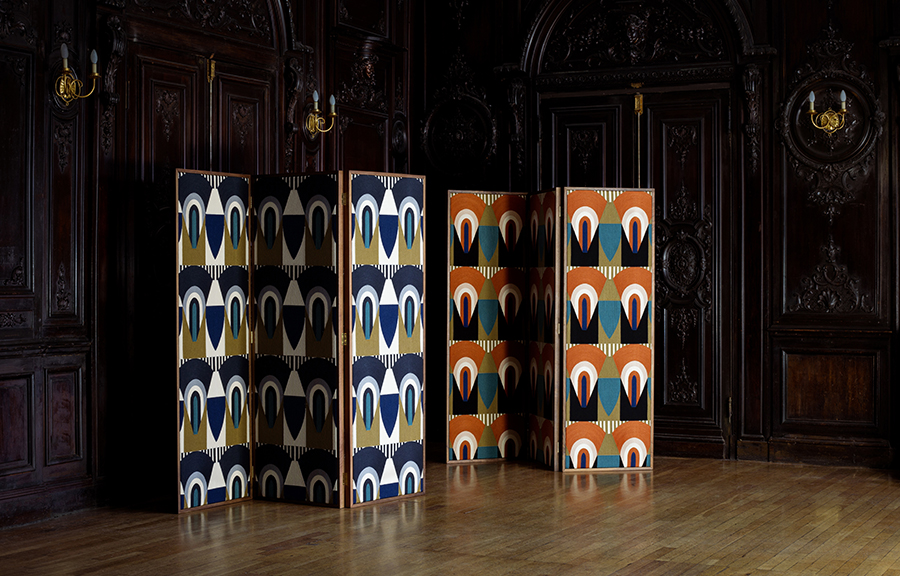 ABOUT
Maison Lily Blue creates individual artisan screens to last a lifetime. Combining expert craft and unique artworks, all pieces are handmade to order in the United Kingdom. Custom screens start from £3200, plus fabric.
Press Enquiries & Images:
Lily Blue Roman: maisonlilyblue@gmail.com